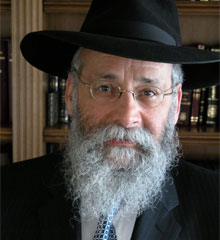 RABBI SHOLOM D. LIPSKAR
Conference Organizer
Rabbi Sholom Dovber Lipskar was ordained at the Central Lubavitch Yeshiva in Brooklyn in 1968, pursued advance studies at the Chabad Lubavitch Graduate School of Theology and Applied Rabbinics and at the Kollel Avreichim – Lubavitcher Rebbe's Graduate School.  He was appointed a Shliach (Emissary) by the world leader of Chabad Lubavitch, Rabbi Menachem M. Schneerson, in 1969.  Assigned to the Landow Yeshiva Center in Miami Beach, where he founded Yeshiva Gedolah Rabbinical College and served as Principal and Dean of elementary, secondary and high school studies.
In 1981 he founded The Shul, where he continues to serve as Head Rabbi and founded the Aleph Institute, a national Jewish education and humanitarian organization dedicated to improving the quality of life for the incarcerated and the military and their families being the official endorser of chaplains for the Department of Defense; and the Educational Academy for the Elderly, where he is responsible for the development of pilot programs which restructure the educational priorities of elderly citizens.  He has been an Adjunct Professor of Religious Studies at Florida International University.
Rabbi Lipskar served on the Miami Beach Commission of Housing in 1981.  He is the chief organizer of the premier biannual International Torah and Science Conference since 1987.
In 2004, he founded the Chaim Yakov Shlomo College of Jewish Studies offering Bachelors and Masters degrees in Hebrew Letters, and Rabbinical Ordination, attracting students from across the globe.
In 2009, The Shul was recognized as one of America's 25 most vibrant congregations by Newsweek magazine and in 2013 Rabbi Lipskar was listed as one of the "Jewish 100" by The Algemeiner.